Halo 4
Game play - 8
Presentation - 9
Story / Creativity - 8.5
Lifespan - 8
8.4
Halo 4 is the beginning of an all new trilogy for the Master Chief and not only do we find out that John 117 can grow to be a capable main character with an actual personality, but also that the things happening around him do affect him emotionally and psychologically. With a strong campaign and somewhat solid multiplayer attachment, fans of the series are going to have a massive distraction in their hands till the next game whenever it comes. Welcome back Chief, we have missed you.
Since the dawn of the original Xbox, Halo has been the eye candy for nearly all fans of Microsoft's green gaming machine. Release after release gamers have stepped into the boots of the legendary Master Chief to save the Earth time and time again from complete annihilation. The question is, does 343 Industries' take on the franchise bring the Chief more than just a new lick of paint?
I am going to be quite honest and say I am not the biggest Halo fan. Sure Halo Combat Evolved, was probably one of my favourite console launch titles of all time but since then every sequel that has ever been pumped out of original developer 'Bungie' has never had that same ground breaking oomph that the first game did. This is the same for most game franchises that have ever come out but with Microsoft's new 343 Industries now at the helm of one of gaming's biggest series, they obviously have a big responsibility on their shoulders.
Halo 4 lets shooter fans once again don the grass green armour of the mighty Spartan in what ultimately becomes his most emotional and heart felt journey to date. Not only have 343 been able to turn the page on Chief's story in a successful way but it is also done in such a precise way that allows it to fit perfectly in its 8 – 10 hour running time.
As many fans will know, Chief was last seen drifting off into the unknown corners of space after saving the world once again from alien invasion. We begin the game exactly where the third game left off as John 117 awakens to find that his digital partner in crime has discovered that they are under threat from an unknown alien force. What happens onwards is an incredibly action packed journey where gamers learn that John isn't just some empty shell that people are meant to relate too.
The writers this time are able to show the unity in friendship between Cortana and John as they try to figure out a way of curing her from her always known fate of rampancy. This is a completely different side to the character that we have never seen before and what is great about this new direction is that it feels completely right and long overdue.  John may be an augmented super soldier, but he is obviously a human being with thoughts and feelings. It is just a shame it took the franchise so long to allow him to show of these emotions.
This doesn't mean everything about the story is perfect though. Sure having our main character grow a heart might be a completely big step for the series but Halo has also always suffered from never being able to give fans a truly deserving villain to vow vengeance against. What we are initially promised at the beginning of Chief's fourth journey is actually incredibly cool and could have been handled so well, sadly this supposedly major villain is left into the back drops of the story until the very end like the fates of every other Halo antagonist.
In a way I would say that Halo 4 deserved maybe a few more hours of running time before its end. Not only do the final few hours feel like a stretch of shooting galleries to the final cutscene, but John and the villainous Didact never get to have a proper on screen rivalry that many people will have been hoping for.
The visual quality though does help bolster the wonky story though as 343 prove that Microsoft's Xbox 360 still has some life left in it. This is Chief's most gorgeous outing yet  and it is rather amazing that the once used up Xbox 360 can actually produce games near the level of something like the Uncharted franchise.
Beyond the story we obviously come into the meat and bone of what Halo is all about, which is the death dealing gameplay. Halo 4 proves that like many other franchise templates before it that if something isn't broke then you better not fix it. Everything that Halo fans will remember is right and ready for them to get back into.
The shooting mechanics feel tight and the enemies are smarter than ever. Saying that though it is a shame that the game lacks so much in variety when it comes to the enemies you come across. With the familiar Covenant forces making a return as always, the new race known as the 'Prometheans' begin to get stale pretty fast thanks to the fact that you can count their varieties in troops on one hand. This is probably due to the game's short length but still you will probably find yourself a little tired of fighting the same skeletor-esque space warriors and robot dogs by the story's end.
Guns have been overhauled for better or worse too with series classics like the assault rifle and magnum making a triumphant return, while the semi-automatic DMR stills comes across as a way too powerful gun for its calibre. Along with the few classics there are also a variety of new weapons based around the Promethean race. These guns are basically carbon copies of weapons the series have seen before but with a really cool aesthetic feeling as each weapon you equip builds itself together from broken pieces.
What comes next is the already incredibly popular multiplayer portion of the game, which allows lobbies of players from around the world to compete in an arena of different modes and environments that fans have grown to love. Saying that though the multiplayer is still a very elitist community where new comers may find themselves overwhelmed by the sheer deadliness of long-time fans that play the game day in and day out.
This is a multiplayer that touts the saying "Only the strongest will survive" and with that stamped across its forehead, you better be ready to scream bloody murder when you die the umpteenth time in any mode. If you spend some time with the multiplayer though you can grow to enjoy it with great modes like Flood, which sees two players wield an infected monster who must kill and convert the opposing survivors. I remember instantly falling in love with this mode and I can honestly say that everyone will have a blast playing it.
For me though I have always been someone who preferred Halo's cooperative horde mode but sadly 343 Industries have decided to drop the massively popular survival mode for a more linear, mission based structure. These episodes that feature in the new Spec Ops mode are indeed for the short time you get to play them but they never give off a sense of replay value like the original Firefight mode was able to do. It is a shame because in a way Halo 4 feels like it is lacking overall content compared to previous instalments like Halo Reach, especially since the multiplayer consists of very few maps that have been instead cut out to be sold through the game's season pass and map packs.
Triumphantly, Halo's always moving soundtrack makes a return with a completely new take on the franchise's universe. Gone have the choir dependent tracks of mystical awesome and now a more finely tuned instrumental tracks list takes its place. If you don't sit around to hear the entire main menu theme then there is definitely something wrong with you.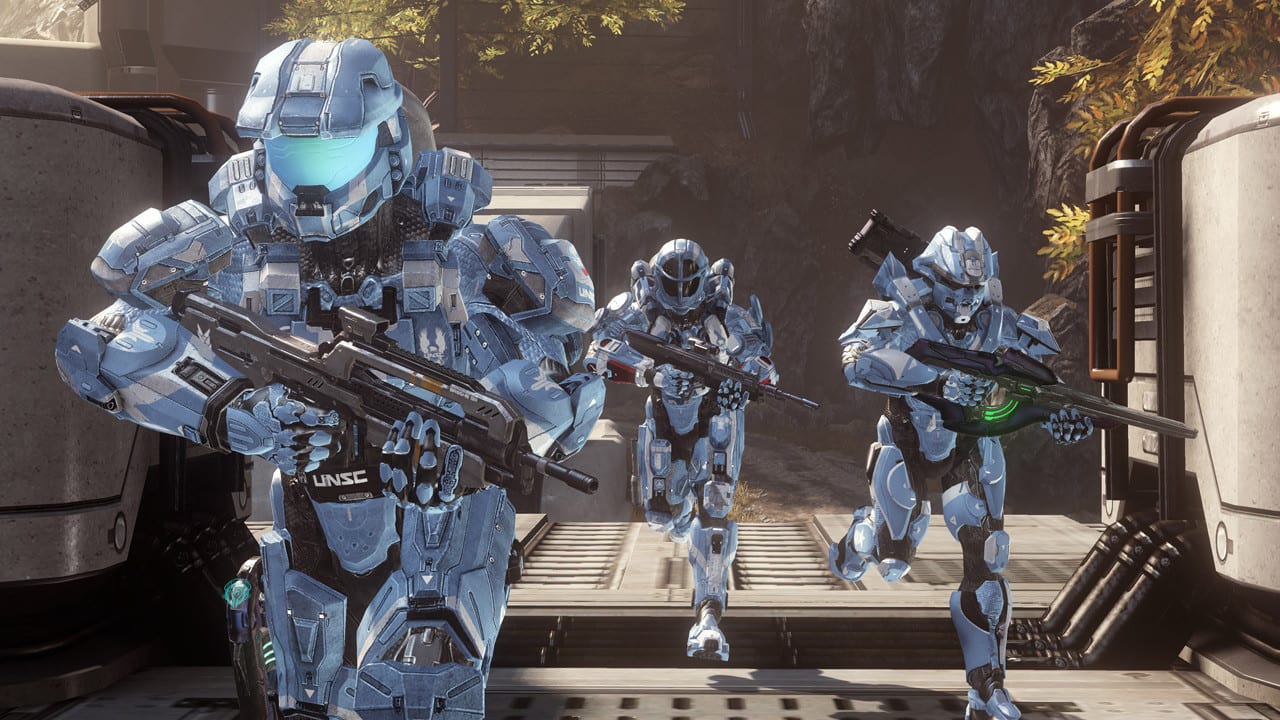 Not only is the music side of things a massive powerhouse in rhythmic beats but the voice acting has allowed this teaser to a new trilogy to really benefit from its aging cast. John 117 has always had an appealing voice actor and thankfully he is taken full advantage of this time around to really help develop his character. Cortana also does what she has always done best and shows that her AI personality has a lot of hidden human emotion to it. Now while the villain does come off as ultimately disappointing it has to be said that Keith Szarabajka does an excellent job of portraying what little there is of him. People may remember him as the terrifying Harbinger from Mass Effect and while his script does sound rather familiar, the role of the Didact was rightly fitted to his voice skills.
For more information, click here.